Reverend Patrick F. McCarthy, 1865-1882
Father McCarthy became the first Pastor of Immaculate Conception after serving as Assistant Pastor and St. Patrick's Church in downtown Washington. Due to the increased enrollment of students, Father McCarthy opened a new school for girls in 1872 at Eighth and Q Streets, NW. Under his care, the Church was brought almost out of debt. 
Reverend Stanislaus F. Ryan, 1882-1903
Father Ryan brought the Brothers of Mary (the Marionists) to take charge of the Boys' School in 1890. In addition, he liquidated the remaining debt left from the building of the Church. During his pastorate, Immaculate Conception became on of the first parishes in the nation to begin devotion to the Immaculate Heart of Mary. A statue of Our Lady was placed above the main altar in the 1880s.
Reverend James D. Marr, 1903-1914
Father Marr grew up in the parish and returned after completing his studies for the priesthood. Under his direction, the exterior work on the Church was completed including the Church tower. He was also responsible for the building of the new school structure.
Reverend Michael J. Riordan, 1914-1921
Under Father Riordan's care, the church's interior was refurbished, including, for the first time, a new lighting system. The church's debt of $58,000 was eliminated when he left to become Pastor of St. Martin's Church.
Reverend James E. Connell, 1921-1930
Under Father Riordan's care, the church's interior was refurbished, including, for the first time, a new lighting system. The church's debt of $58,000 was eliminated when he left to become Pastor of St. Martin's Church.
Reverend Francis J. Hurney, 1930-1933
Father Hurney had been Assistant Pastor at St. Patrick's when he was made Pastor of Immaculate Conception. During his priesthood he instituted the Washington Catholic Hour, along with Father Ignatius Smith, O.P., a radio program broadcast over WOL. The broadcasts took place every Sunday evening from October through April and it was on the air until 1962. The program aired for the first time on the same day that the Grotto of Our Lady of Lourdes was dedicated.
Right Reverend Monsignor John K. Cartwright, P.A., D.D., 1933-1946
Father Cartwright continued the programs started by Father Hurney and in 1936 he created the Boys' and Men's Choir. He served until his transfer to St. Matthew's Cathedral in 1946. He was a scholar and historian and taught church history and pastoral theology at Catholic University in Washington, D.C. Father Cartwright introduced the "Printer's Mass" – originally begun at St. Andrew's Church in New York City – and was intended for those who worked at night. Immaculate Conception was the only church in Washington, D. C. to hold Mass between midnight and dawn on Sundays. He often invited noted scholars to deliver the homily at Sunday Masses. The Church celebrated its 75th Anniversary while Father Cartwright was in service.
Reverend Joseph E. Gedra, 1946-1952
In 1935 Father Gedra was assigned to be Assistant Pastor at Immaculate Conception and became Pastor upon Father Cartwright's transfer. He began the first evening Mass with the permission of Archbishop of Washington, the Most Reverend Patrick A. O'Boyle. In 1952, Father Gedra became Pastor of St. Paul's Church in Damascus, Maryland.
Right Reverend Monsignor John B. Roeder, 1952-1957
During his pastorate, Father Roeder also served as vice-chancellor of the Archdiocese. He gained national fame when he was named National Director of the fundraising appeal to build a national shrine to the Blessed Mother, under her title, the Immaculate Conception. The contributions from a nationwide appeal, under his service, exceeded all expectations.
Reverend John F.X. O'Connor, 1957-1964
Father O'Connor had been Assistant Pastor under Father Roeder and was also the administrator in the land purchase on 7th Street to provide parking facilities. The Church celebrated its 100th Anniversary in 1964 during his service.
Reverend Monsignor J. Joshua Mundell, 1964-2001
Previous to his appointment of Pastor to Immaculate Conception, Father Mundell was Associate Pastor at the Shrine of the Sacred Heart on 16th Street. He was widely known and praised by his peers, parishioners and other DC residents for his devotion to the poor and needy. His commitment to the parish school, which he reopened in 1964, and the building of Immaculate Conception Apartments won him the title of the "Shepherd of Shaw". Father Mundell befriended men and women of every religious affiliation and sought to make them always at home in the Catholic Church. He attended Georgetown University and Mount Saint Mary's Seminary and was award each school's highest honors. He served in the United States National Guard as Chaplain, retiring with the rank of Major.
Reverend Monsignor James D. Watkins, S.T.L., Ph.D., 2001-2016
Assigned by Theodore Cardinal McCarrick as Administrator to Immaculate Conception in November 2001 following the death of Monsignor Mundell on October 1 of that year, Father Watkins became the Church's twelfth Pastor with official appointment on March 19, 2003. Pope Benedict named him Monsignor in April 2006 with the title of Chaplain of His Holiness. 
After graduating from St. Anselm's Abbey School for boys in Washington in 1979, he attended The Catholic University of America and, as a Basselin Scholar and seminarian for the Archdiocese of Washington, he earned his Bachelor's and Master's degrees in philosophy. He then studied in Rome at the Pontifical North American College where he earned his Bachelor's in Sacred Theology from the Pontifical University of St. Thomas Aquinas (Angelicum) and a License in Sacred Theology from the Pontifical Gregorian University. Ordained by Cardinal Hickey on June 24, 1989 at the Basilica of the National Shrine of the Immaculate Conception, Father Watkins was assigned as Associate Pastor at St. Ann's Church in Washington, DC. In 1992, he commenced doctoral studies in philosophy at Oxford University and the Angelicum in Rome, and earned his Ph.D. in philosophy in 1997. He served as Associate Pastor at St. Matthew's Cathedral from 1995 to 2001 before being assigned to Immaculate Conception Church as Administrator, while continuing his work as Associate Pastor at the Cathedral. 
Assisting the Archdiocesan Office of Worship from 1995 to 2007, Father Watkins served as the Cathedral's principal Master of Ceremonies for Episcopal Liturgies, compiling nearly 3000 pages of ceremony scripts which serve even today as a template for liturgical planning and production for the Archdiocese. He has served as a Chaplain to the Serra Club of Washington, Dean of the Northwest-East Deanery, member of the Archdiocesan Priests Council, and is a Magistral Chaplain in the Order of Malta in the Federal Association. He has lectured as Adjunct Lecturer and now Adjunct Professor at The Catholic University of America since 1990 in the School of Philosophy in history, morality, and metaphysics. He served in the Air Force Chaplain Reserve with the rank of 2nd Lieutenant. While a student in Rome, he compiled an extensive unpublished work on the Lenten Station Churches of Rome and has published a widely popular Manual of Prayers. 
During his time as pastor of Immaculate Conception, the parish witnessed the completion (March 2003) of the new Washington Convention Center located across the street from the church; the entire renovation (2004) of the parish school with a major gift from the Clark Construction Group, accommodating Pre-Kindergarten to Eighth Grade; many capital improvements to the church, rectory, school and convent buildings and grounds (which he placed on the National Register of Historic Places in September 2003), and the development and revitalization of a changing Shaw community.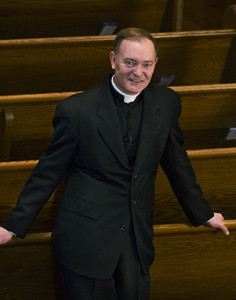 Reverend Adam Y. Park, 2016-2017
Father Adam Park, a native Washingtonian, grew up in Bethesda, MD and graduated from Walt Whitman High School.  During his senior year in high school, he discerned that God was calling him to the priesthood, and so, turning down a scholarship to the University of Notre Dame, decided to join the seminary.  The Archdiocese of Washington sent Fr. Park to St. Pius X Seminary in Scranton, PA, where he graduated with a BA in philosophy from the University of Scranton.  For his major seminary studies, Fr. Park was sent to the Pontifical North American College in Rome, Italy and received an S.T.L. in Fundamental Theology from the Pontifical Gregorian University.  Fr. Park was ordained to the priesthood in 2005.  He served as a parochial vicar at St. Patrick Catholic Church in Rockville, MD from 2006-2008.  He was then assigned to be the priest secretary to His Eminence, Cardinal Donald Wuerl until 2012.  Afterwards, he served as pastor at Epiphany Catholic Church in Georgetown.  As of January 2015, he was given the additional responsibility of being the chaplain of the Newman Catholic Student Center at George Washington University.  Having begun this new assignment as of July 2016, Fr. Park is excited to be the new pastor at Immaculate Conception Church and hopes to continue the rich tradition and vibrancy of the parish.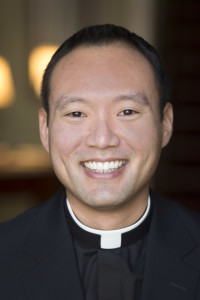 Fr. Charles Gallagher, 2017-present
Fr. Charles Gallagher grew up in Hyattsville, MD. He went to parochial grade school and then to the Heights in Potomac for high school. He graduated from Fordham in the Bronx, and did most of his seminary at the Pontifical North American College in Rome.
After his ordination in 2010, he served as assistant pastor at St. Peter's on Capitol Hill for the summer before returning to Rome to complete his licentiate. In 2011 he became assistant pastor at St. Mary's in Rockville and then pastor of Our Lady of the Wayside in St. Mary's County.
In 2017, Father was appointed pastor of Immaculate Conception as well as Chaplain to the Catholic students at George Washington University. In 2019, he became full-time pastor of Immaculate Conception.